Come join our team. Job Fair, April 4th 9-4. Employment opportunities for waitstaff, maintenance, housekeeping, front desk, cooks, finance assistant, and club house manager. Please come prepared to interview. Interviews held at club house located at 5111 Woodlands Ct. Please use 5201 Woodhaven Ct Flint 48532 for GPS navigation.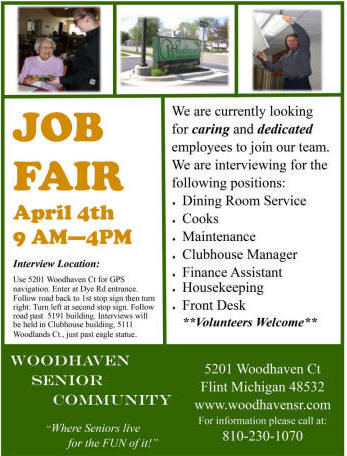 Click here to download our April 4th Job Fair flyer.
Click here to download our Volunteer Application.
Click here to download an Employment Application.
Becoming a volunteer for the Woodhaven Senior Community allows you to acquire a source of personal satisfaction and growth. In addition to making a difference in the lives of residents and their families, volunteers develop creativity, meet new people, explore new careers and grow personally.
There are many ways to volunteer at Woodhaven Senior Community. The following list is just a few of the opportunities available.

· Read a newspaper, short stories or poetry to residents
· Show videos, DVD's and slides
· Walk with residents on the trails
· Bring a pet to visit
· Visit one-on-one with residents
· Play games with residents
· Host BINGO sessions
· Assist with chapel services
· Write cards and letters for residents
· Assist or teach craft activities
· Run errands for residents
· Assist as a chaperone on an outing
· Assist with clerical
· Assist with gardening
· Assist with special events

Share your talents with our residents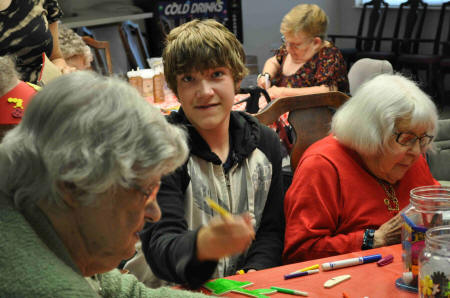 Woodhaven volunteers love sharing their skills. It's a great way for them to use their talents and to give back to the community. Josh, a high school student, assists residents at the weekly craft class.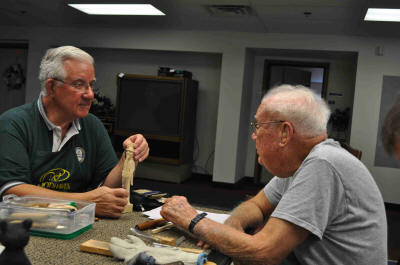 Charles Dolan uses his talent to teach residents how to woodcarve and Mike Jankowski, uses his Wii bowling skills to teach residents how bowl a 300!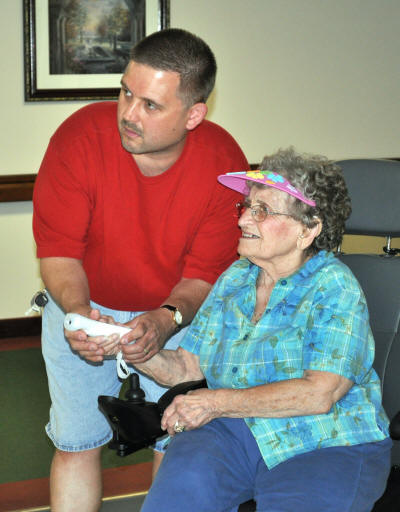 Woodhaven is a new beginning. It provides a life experience rich in activity, choice, and care that respects the desire to live independently. Enjoy the laughter with friends and rediscover your energy, talents and interests.