Come visit us at the Clubhouse. Completed in the fall of 2018, Woodhaven provided a 16,000 foot hub for community activity. Included in the Clubhouse is The Woodhaven Grille and Pub. The Grille and Pub provides not only residents but the public as well, an intimate dining experience with a well rounded menu selection. Delicious food paired with reasonable prices entice patrons to visit again. The Grille is open for lunch on Wednesdays from 11:00am-2:00pm, breakfast on Thursdays from 8-10:00am and dinner from 4-7:00pm on Fridays. The Pub provides you with a full selection bar with exceptional service and prices. Be sure to join us on Fridays from 3-5:00pm for Happy Hour. In addition to what is offered inside the Clubhouse, we also offer comfortable patio seating. Have your meal or delicious beverage outside on the patio while enjoying the beautiful weather. While there take advantage of our putting tee. Clubs and balls are provided at the bar. Not able to eat in? We provide take out. Call 810-230-1070, ask for the Clubhouse and place your order. During the warmer months we have other meal opportunities such as Mondays On the Patio, Take Out Tuesday, and Pizza Thursday. Be sure to check out our monthly newsletters for details.

Included in the facility is the Grand Hall. During the week you will find a multitude of activities for residents to join in on. We begin our days with the delicious aroma of fresh ground coffee, and the cheerful chatter of residents as they catch up on anything from children, news, politics, to their own special interest. Close friendships between the resident and staff are built as they invest in each other's lives. Throughout the week you will find residents involved in a multitude of activities. These include but are not limited to Bingo, Movie Matinee, Craft classes, Choir, Sign Language Class, Birthday Celebrations, and monthly Galas.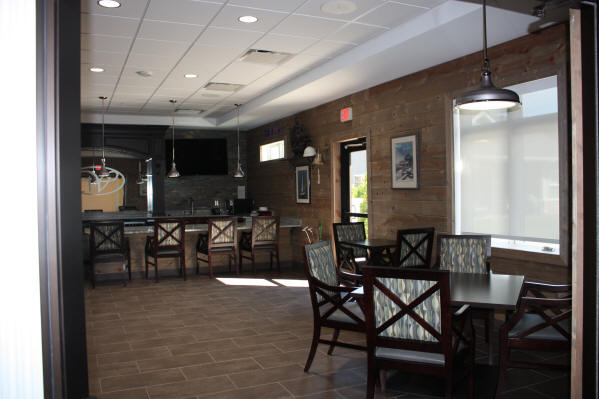 In addition to our weekly offerings we provide our residents with various local talent. Our residents enjoy visits from groups such as The Flint Masters Singers, Mawby Chorale, Powers and Lake Fenton High School Choir and Bands and many more. Looking to sharpen your mind, join us for educational seminars such as Hospice vs. Palliative Care, Elder Abuse, How to deal with Grief, Estate Planning or The Art of Woodworking. In addition to the many scheduled activities and events scheduled in the Grand Hall check out our rental and catering tab for more information on holding your own personal event here.

Are you in need of a good book or magazine? Or maybe you are looking for the days Wall Street Journal or USA Today. Drop in to the Clubhouse Library. A few of our wonderful residents maintain our library and keep updated materials for your viewing pleasure.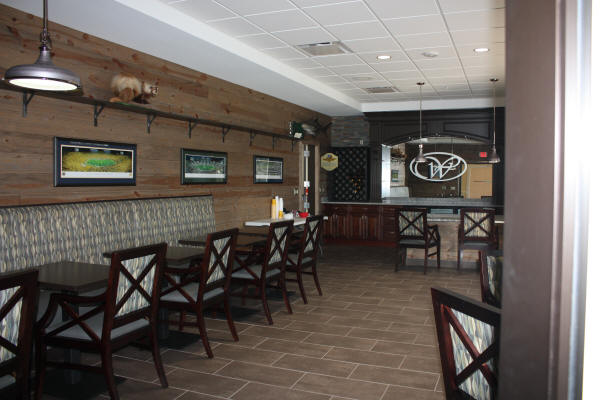 An important part of Senior living is staying fit and healthy. We are very proud of our Wellness Center. Clubhome residents are encouraged to attend our weekly Fun Functional Fitness and Water Therapy classes free of charge. Our Wellness director, and certified instructor of over 25 years, Donita Potts, is certified in Foundations of Group Exercise, Lifestyle Coach Training, YMCA training of the USA, Lifestyle Coach training, Aquatic Personal Training Specialist, and as a WaterART Shallow & Deep H20 Instructor. She provides an enjoyable "at your own pace" workout four days a week. Laughter radiates from the Wellness Center as residents enjoy staying fit, building relationships and sharpening their minds. Not a Clubhome resident but would like to join in? We offer a drop in fee of $5 a day or $35 a month. If you or your loved one prefers individualized exercise we provide several equipment options, such as treadmills, elliptical, recumbent bike and weight benches for use. In addition to our land opportunities the Clubhouse houses our indoor, 20 x 40 therapy pool. The depth of the pool (2.5 - 4 feet) provides a safe and enjoyable place to exercise during Water Therapy Classes or on your own. The pool is handicap accessible with a ramp provided for easy entry and exit. Our residents say the water temperature is perfect! After that much needed swim, residents love to enjoy a stress relieving dip in our luxurious jacuzzi or a nice rest in our spacious sauna.

Still in need of stress or tension relief or just want a relaxing massage? Our licensed massage therapist, Carrie Lancaster, will work with you on your own individual needs during a time that is convenient for you.

Community Events
Recreation, Wellness and Vitality Center

Enhanced Socialization and Community Networking

Private Parties with the use of Pub and Dining Facilities

Bingo, Card Club, Live Music, Movie Nights, Arts and Crafts

Continuing Education Gatherings

Support Groups

Extended Exercise

Nature Walkways, Raised Herbal and Vegetable Gardens
Some of our fitness activities include:
Body in Motion Exercise classes

Tai Chi exercise classes

Walking Club

Chair/Floor Yoga classes

Nature walkways and bike paths

Wellness and Vitality Center

Future aquatics exercises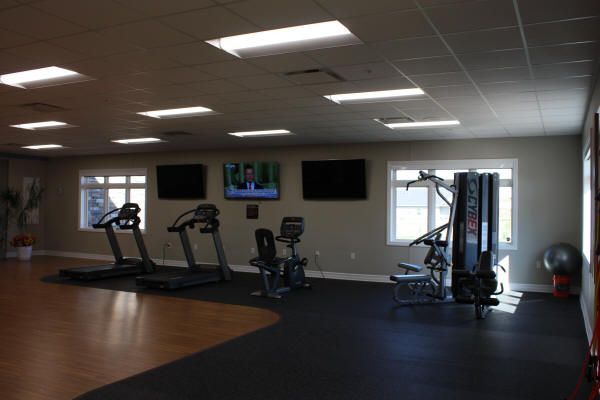 Clubhouse Rental

Woodhaven Senior Community is pleased to host your special event. We specialize in Showers, Reunions, Birthday Celebrations, Celebrations of Life, Holiday Parties, Corporate Parties and Weddings. Our Grand Hall provides you with a beautiful and spacious place to gather to create wonderful memories.

Rely on us for your catering needs. Executive Chef Robert Waskoviak, with over forty years of experience in the business, will work with you to tailor our catering options to meet your specific needs. Your guests will walk in hungry and go away filling full and satisfied.

We also offer a fully stocked pub option for your drinking pleasure. Exceptional prices and service will make this a must for any special event. We accept cash, major credit cards Visa, MasterCard, American Express and Discover.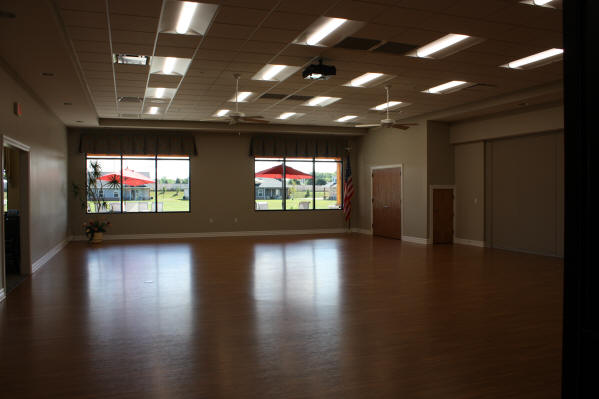 Without Catering Option:
Base Rental Cost: $500
Includes use of Grand Hall, tables and chairs
Seats up to 140 guests comfortably

With Catering option of $250+:
Base Rental Cost: $250
Includes use of Grand Hall, tables and chairs
Seats up to 140 guests comfortably
Catering cost vary by selections

Additional options:
Linens, large color selection, prices vary by size and color
Projector $100
Microphone $50

Deposit: To reserve a date for your special event, a $250 deposit is required. Deposits are considered a down payment on the event and will be applied toward the final invoice. In the event of cancellation, all deposits are non-refundable two weeks prior to the event date.

Payments: Payment in full must be made two weeks prior to your event date. We accept checks, Visa, MasterCard, American Express and Discover payments. There is a 3% surcharge added to all credit card payments.

Service Charge: A 16% gratuity and 6% MI sales tax will also be applied to all food and beverage. Groups requesting tax exemption must provide a tax exempt number on signed form, prior to the two week payment deadline.

Room Rental: The room rental includes use of room, tables and chairs, and one staff member.

Special Menus: Parties with specific dietary needs or requests will be accommodated with a specialized menu and service so long as the requests are communicated prior to the Clubhouse Manager in due time.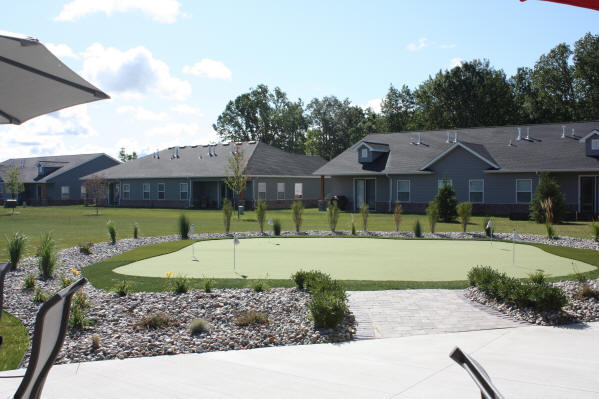 Final Numbers: A final guest count must be communicated to the Clubhouse Manager two weeks prior to your event.

Meal & Beverage Service: All federal, state and local laws with regard to food and beverage purchase or consumption are strictly adhered to. All food and beverages must be supplied by Woodhaven Senior Community in accordance with the Genesee County Health Department and the State of Michigan Liquor Control Commission if using Woodhaven's catering service or kitchen. State law prohibits serving any alcoholic beverages to any person appearing intoxicated or within the Genesee County Health Department rules.

Identification: All guests are required to show proper age identification to be served alcoholic beverages.

Photography: Photography of facilities is allowed.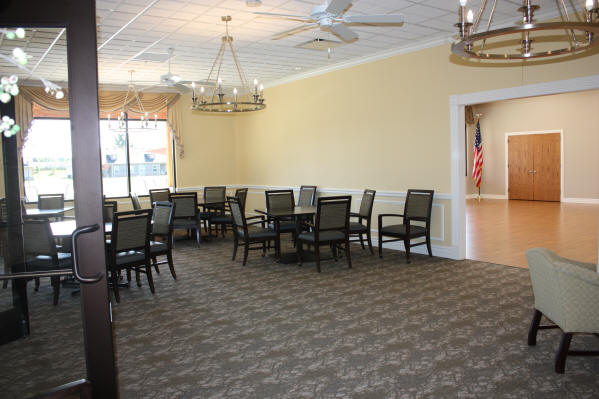 Set Up: On the date of your event you and your vendors will have access to the property two hours prior to the event, unless otherwise discussed.

Decor: The staff at Woodhaven are not responsible for any decorating or decorations. Woodhaven will not accept the responsibility of storing personal property, equipment or supplies belonging to or rented by the event host. All such items must be removed after the end of the event. We will not assume or accept any responsibility for damage to or loss of personal articles or rented equipment left at our facility prior to, during or following the function. Open flames of any kind are not permitted. Decorations cannot be taped, stapled or pinned to walls in any way that may cause destruction of premises.

Linens: We proudly partner with a local company for all of your linen needs should you be interested in renting linens. By using this service you are not responsible for the ordering, delivery or return of linens. We will handle that for you. There is a large selection of colors (prices vary by color). Should you choose to use your own linen company you are responsible for the ordering, decorating and return of those items.

Performance and Liability: Woodhaven Senior Community is not liable to perform this contract as a result of strikes, fire, flood, failure of power, act of God or any causes beyond reasonable control. Additionally, we shall not be held responsible for claims made by outside contractors hired by the event host.

For any questions or to schedule your rental contact:

Main Office: 810-230-1070
Main Fax: 810-230-2505

Woodhaven Senior Community
Clubhouse
5111 Woodlands Court
Flint, MI 48532