Greetings to all, near and far,

I want to start this week's message from Woodhaven acknowledging all our staff, residents and caregivers who have become so dedicated to fighting COVID-19. Each week during our team meetings, I can personally see the buy in from everyone. Daily we practice See Something, Say Something and Do Something! Focusing on that philosophy, I believe keeps us all on the same page and focused on the task at hand. It also keeps would be slackers in check knowing that this is a very serious situation we are dealing with and that all eyes are on anyone who enters our doorway. With challenges, we tend to find a few bright spots of which we can then pass on to our residents. Personally, I have a very hard time reminding our residents of social distancing and other concerns especially when they have served in WW II or the Korean War. It is at that very time that almost always we are acknowledged with how appreciative everyone is for us keeping rules in place and protecting them as best as possible. With that being said, the following are a few updates and reminders as we enter Easter weekend:

1) This week we opened our courtyards in the Meadows and Fountain View buildings. Weather must cooperate and social distancing must be a focus to keep this special treat available (hopefully two times a week). Sign up can be located at either building front desk. For those of you off campus, please understand that the courtyards are supervised during this fresh air opportunity.

2) With Easter upon us, I want to remind everyone that if flowers are sent (most greenhouses and florists are closed), they must be held in our foyer area for at least 72 hours due to the fact that COVID-19 could possibly be on the plastic container, wrapping or shielding. Also, Easter usually warrants visitors and I unfortunately must remind all family members of The Meadows, Fountain View and Clubhomes, residents to please refrain from visits not only this weekend but until our COVID -19 threat ends. Try to utilize social media and respect the Stay Home, Stay Safe mandate issued by our Governor.

3) If anyone is bringing essential items to their loved ones, ALL items must be brought to the main entrance for inspection and sanitization. We have had a few situations that items have been passed to residents through his or her window… Sorry… That is STRONGLY forbidden. Keeping deliveries in mind, please consider drops only once or twice a week. Our front desk is limited to sanitizing materials as well as trying to multitask as best as possible. This will allow time for better distribution and shorter waits for recipients.

4) I am often asked about our supplies. My best answer is that keeping up with demand and inventory is a challenge. We are doing the best we can with multiple supply chains. Each teammate knows to ration supplies as best as possible.

Again, I want to thank everybody for continued support and prayers for all concerned. This is a team fight. A fight that we as a community will win!

God Bless,
David Dixner

---
Thank you for the opportunity to introduce Woodhaven Senior Community to you and your family. Woodhaven is a privately and locally owned and operated senior residential community located in Flint Township. Overlooking preserved natural amenities of water and wildlife, Woodhaven is Genesee County's premier senior living residence where it is far from just a home; it is a thriving, active community where seniors live for the fun of it!

The owners, Ken, Phil and David Dixner, have been in the business of building property management and caring for people over 45 years. Together, with their firm commitment to seniors and their families, Woodhaven has worked very hard to provide our residents with an elegant, safe and dignified residence to live in since we opened in 1989. Since the inception, affordable, long-term housing has always been a focus of the Dixner family thus very seldom will you find a comparable selection of services and amenities housed under state of the art than at Woodhaven.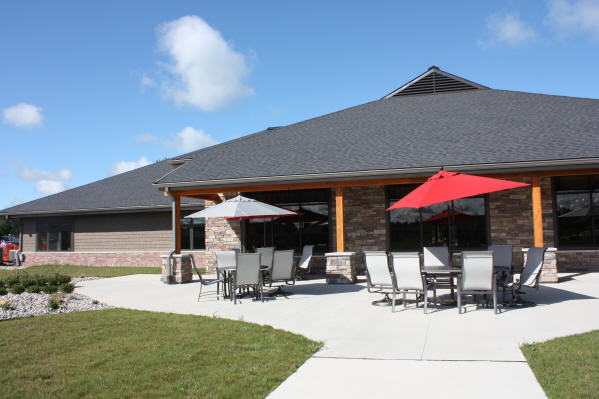 Several types of living arrangements can be enjoyed at Woodhaven ranging from two bedroom Clubhomes with attached garages and the ever so popular quaint one and two bedroom full size apartments set in a relaxing congregate atmosphere. Each residence enjoys a single-story design and all are monitored by security 24 hours a day. There are a wide variety of services and activities available to our residents; most of these are included in the monthly rent.

In 2014, The Woodlands addition provided a new chapter in the history of our community. A newly constructed 16,000 sq. ft. Residents Clubhouse and attached indoor Aquatic Center serves as the center of activity for the entire campus hosting events large and small as well as offering a place for members to gather and make memories with family and friends. Other social amenities include pub and semi-formal dining, outdoor putting green and wellness center. The Resident Clubhouse key to success is found within the friendliness of the residents supported by the exceptional service delivered by a very dedicated staff. Woodhaven's motto is that we are a "CAN DO" community which comes easy when you consider the type of clientele we are serving.

It is clear to see by strolling over the 40-acre landscaped campus, Woodhaven Senior Community delivers a multitude of services and affordable living options to your doorstep. With well over 250 active residents, please consider visiting us soon to see first hand the Woodhaven Difference!